Cecilia Greenwell
State Government of Western Australia
The team has been gentle and has been very aware of my comfort the whole time.
I had an extensive issue and wanted to get everything fixed. I have been told by my dentist that it will cost me $35,000 to fix my upper jaw alone. Luckily my workmate has been to Dr. Motiwala and has highly recommended his work in India. I was hesitant a bit and my family was not comfortable with me traveling to India by myself. It has been amazing being in the hands of Dr. Motiwala and his team. I really appreciate their work and their care in the last week I have been here. I can't recommend them enough and I can't wait to tell my friends, family, and coworkers when I get back home. I had 14 implants (Single piece basal implants), 7 extractions, and 4 root canals. Full mouth restoration in a single visit followed with NexxZr Zirconia crowns metal free. The team has been gentle and has been very aware of my comfort the whole time. Thank you so much!
---
Nibedita Bhowmik
Doctor – Australia
For dental implants as basal implants is not recognised in Australia it is not practiced by implantologist there yet. It is not practiced so I was advised by my dentist to go for conventional implants for my missing teeth and fractured badly decayed teeth with a sinus lift & I had bone loss in my 1st molar area which would take around 6 to 9 months to complete if nothing adverse happens also it was going to cost around $3000 per tooth, being an impatient person I was not keen on the conventional implants as I have to wait for a longer time to get my permanent teeth. The cost was also a factor but it definitely was not my main concern, also I did my own research on the internet and learn that the infection rate is low in the case of basal implants. I flew down to Hyderabad to get dental implants done by Dr Motiwala. I am very happy with Dr. Motiwala and his team service was very good, Dr. Motiwala is an expert in his field extracting the teeth and fixing the implants was almost painless I never thought I would be able to sit on the chair for 3 to 4 hours with G.A(General anesthesia) but Dr. Motiwala definitely helped me reducing my dental anxiety and put me into ease. Liked his calm attitude.I cannot thank him enough, I had a total of 9 implants followed by zirconia crowns(metal free) done. I would recommend Dr. Motiwala to my friends for the same.
Good luck!
---
Kurt Muller
IT Engineer – New Zealand
Hi, I am absolutely happy about the dental treatment I have received here in the last two weeks at Dr. Motiwala Dental Clinic. For several years I have been looking for suitable dental treatment while researching options provided internationally in places like Turkey, Mexico, or Bangkok. Dr. Motiwala offers Permanent teeth in 3 days, technique was by far better than anything else I could find anywhere. Tasneem, Dr. Motiwala's international coordinator, started initial contact by providing helpful guidance and the information required.
Further Tasneem helped coordinating accommodation, transport and many other requirements promptly. With confidence, I eventually arrived in India and was totally impressed with the professional and competent dental services I received. Dr. Motiwala's team provided. I have received full mouth restoration with 27 crowns and a few implants. The entire treatment basically was pain-free and as far as I am concerned a total success. I am so thankful and happy. I wish Dr. Motiwala's entire team all the best. I feel indebted forever.
---
Brendon Joseph
Sydney, Australia
Dr. Motiwala and his team at Hyderabad were exceptional. My trip from Sydney to Hyderabad was totally worth it. Dr. Motiwala offers world-class service for a price much much lesser than what you would have to shell out here in Sydney and the results are amazing. I had the initial consultation on phone and by the end of the call I had complete trust in them, and I have a beautiful smile now. If you are looking for a smile makeover in Australia, then I would highly recommend you plan a visit to India and meet Dr. Motiwala and I bet you wouldn't be disappointed.
---
Sarah Elizabeth
Gold Coast, Australia
I would like to wholeheartedly thank Dr. Motiwala for returning my personality. Though I was upbeat, I would hide from smiling many a time, but now my old confidence is back. I am extremely grateful to you and your team for what you guys for giving me a new lease of life. I can smile now without any fear of how my teeth look. Dr. Motiwala, you are awesome mate! I wish I got the smile design done years ago.
Please feel free to share my before and after pics anywhere you want, and I will make sure to send you more patients from Gold Coast. Cheers!
Forever thankful!
---
Jessica Smith
Melbourne, Australia
The whole team at Dr. Motiwala Dental Clinic & Implant Center totally changed my life. They are all truly exceptional in what they do, their skill and knowledge, the communication, and their care for their patients are all first rate.
My dentist, Dr. Irfan Motiwala, is a master and a very caring person too. I am so pleased with the amazing new smile Dr. Motiwala created for me, the results completely surpassed my expectations. His suggestions and inputs throughout the treatment were very valuable and knowing he is an experienced and highly-skilled dentist gave me a lot of confidence and he didn't disappoint. I felt welcomed right from my initial phone call and they were all very enthusiastically involved in my treatment as it progressed making me feel so special. The coordinator, Tasneem, made each appointment a pleasure, even the ones that were really long.
Visiting Dr. Motiwala's Dental Clinic in Hyderabad from Melbourne was a lovely experience. Dr. Motiwala Dental Clinic & Implant Center is remarkable. To Dr. Motiwala and team – Thank you, Thank you, Thank you!
---
Frank Ticeano
Sydney, Australia
I am very particular about who takes care of my health care needs. One of my cousin's who got a smile makeover done by Dr. Motiwala recommended him to me and then I did my own extensive research before deciding to go with Dr. Motiwala Dental Clinic. From their reviews online, I figured they are a highly specialized practice that aims to provide the best dental care possible in a friendly environment.
Dr. Motiwala ensured my comfort from the start to the completion of the treatment while his staff took care of all my other needs very efficiently. They were all extremely professional, caring and the result was better than what I anticipated. I would like to thank you guys for giving such a life-changing experience and I highly recommend Dr. Motiwala Dental Clinic & Implant Center!
---
Agnes White
Brisbane, Australia
After a wait of 20 years, I finally decided to get a smile makeover and I got my new smile right in time for Christmas. My visit to India for this purpose has been a memorable one. The doctor, as well as the staff at Dr. Motiwala Dental Clinic, were genuinely professional, friendly and caring.
They made me feel so much at ease during the whole treatment process and I left every session feeling like I had spent time with friends. I had no issues at all and their level was customer service was second to none, a lost art these days. Thank you to Dr. Motiwala and everyone at the clinic, I will never forget how you all worked hard to change my life and pumped in a new confidence in me that I never thought I would be able to achieve. Cheers!
---
Carolyn Welsh
Melbourne, Australia
From start to finish my experience with Dr. Motiwala and his team have been amazing and I cannot thank them highly enough for the great service! I feel like I am over the moon with my new smile and it's so hard for me to believe it was possible such a short time and so easily. I used to have gaps in between teeth and they looked very crooked. I had developed a kind of an inferiority complex over the year and would never smile for a picture. It's such a pleasure to look at my perfect front teeth now and I can't stop smiling in front of the mirror, haha! Everyone at Dr. Motiwala's practice was so nice, warm and welcoming which made the whole experience even better. I will definitely recommend this practice to anyone who wants a perfect smile!
---
Darlene Keenan
Perth, Australia
I always wanted to straighten my teeth and after reading Dr. Motiwala's numerous reviews on Google I decided to fly to India as I was getting both world-class treatment and a saving of 1000s of dollars. I landed in India for my treatment in October 2018 and my overall experience was beyond my expectations.
I was a bit edgy to start with but the Dr. Motiwala and his team were very patient with me and they killed all my fears as we progressed. Tasneem was so supportive and helpful throughout the process and she always got back to me very promptly. All my appointments were on time and I didn't feel being rushed through the appointment at any point in time, not once.
Dr. Motiwala was very accommodating, he listened to my every request and still gave me the results I was looking for. I cannot write enough good things about his expertise and I am so glad to have landed up in such safe hands. It's been a great experience and I am very pleased with the results. I just don't have anything negative to say. Thank you – Dr. Motiwala, Tasneem and team!
---
A. Compton
United Kingdom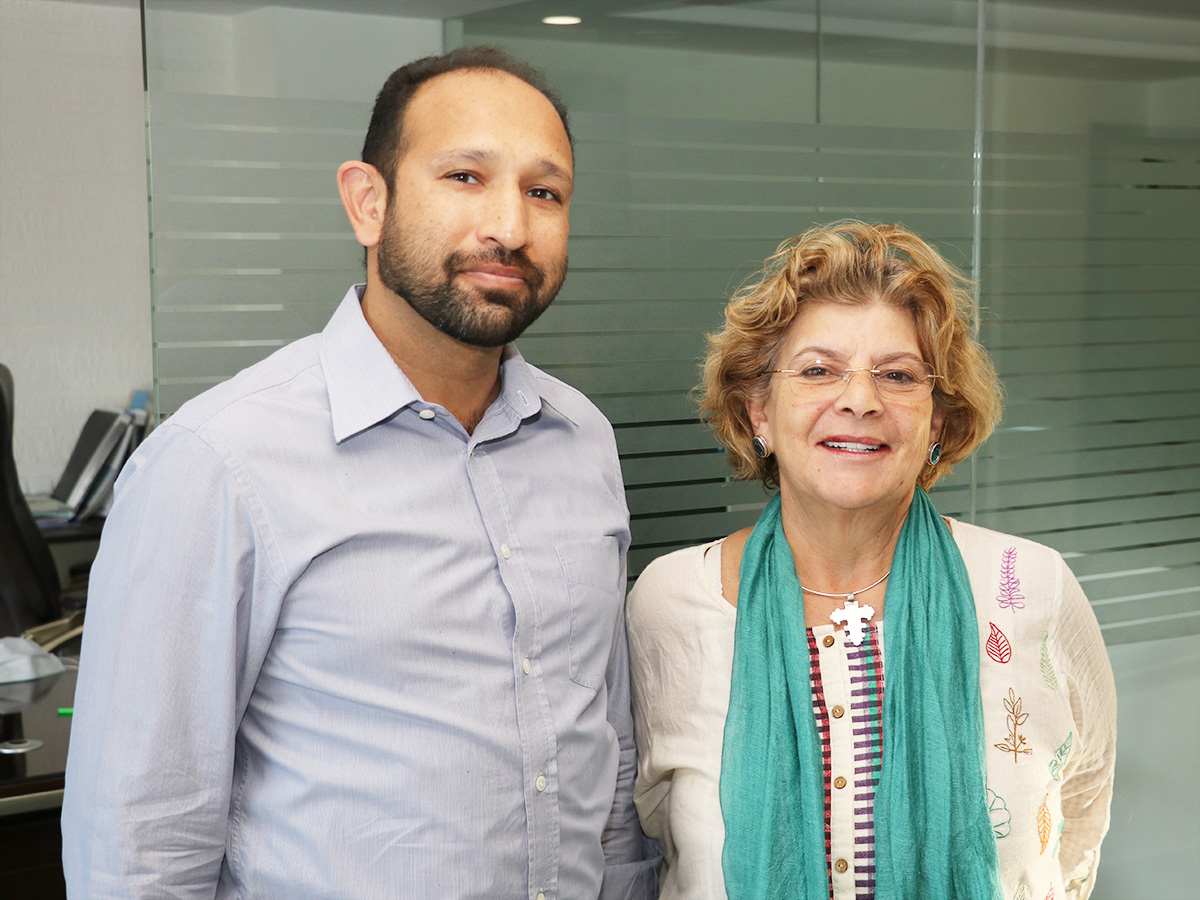 1 year later your reputation goes before you!
Your reputation Dr. Motiwala was extolled by an enthusiastic patient
I heard about Dr. Motiwala through Vicky a woman I met while staying at the Radisson Blu hotel with friends in 2017. She extolled Dr. Motiwala's skills and his surgery. I asked for his details just in case.
I had conventional implants done in Hungary in 2008 but wanted more bottom teeth where there were gaps. I was also worried about contracting endocarditis because one tooth had an underground infection.
Is Dr. Motiwala's system of teeth in 3 days better than conventional implants. That is debatable and there are widespread differences in opinion amongst the dentists globally. I have had full mouth restoration with single piece dental implants and zirconia crowns.
Psychologically it is good for patients because teeth can be placed after surgery. However, patients should be aware that while these new implants look wonderful and give you an attractive mouth and glorious instant smile, they take time -months & embed and lodge in the mouth. You have to be gentle with yourself eating soft foods for at least 3 months and you cannot bite things. Your teeth look great.
The benefits are instant – No metal is used in your mouth apart from titanium which fuses with the bone and gums. Thank you Dr. Motiwala – a year later – for your work.
---
Clive Harding
Tasmania, Australia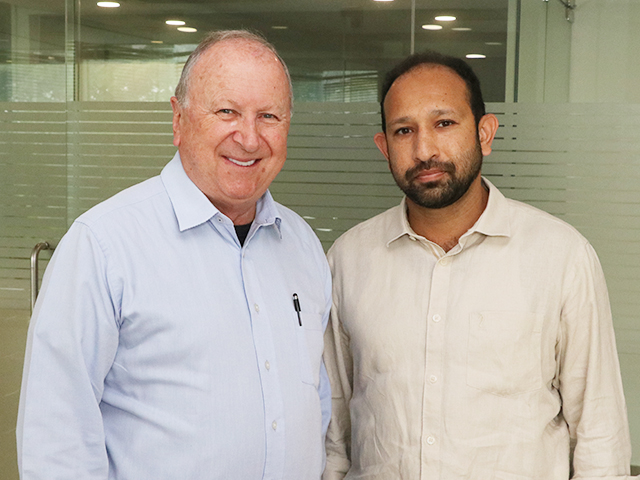 I came to Dr. Motiwala's Clinic due to the deterioration of my teeth after coming across an article online about one patient's experience and contacting five former patients all of which validated what the initial online patient mentioned. The options proposed by my dentist back in Australia were all unpalatable ranging from extractions and dentures to implants, the latter at prohibitive costs. From the moment upon arriving at Hyderabad, the Clinic's service has been absolutely seamless from being met at the airport to my hotel, fetched and returned each day, the surgery, etc. The persona of all the staff particularly of Tasneem the International coordinator to Dr. Motiwala was exceptional, warm, caring people. As for the surgery, Dr. Motiwala is absolutely amazing and the way he went about the procedures from looking at the Xrays on screen, there was an aura of confidence that in effect subconsciously transmitted to me from the very first moment. The man is a wizard, so business like, so professional, so particular and nothing less than to his professional standards would suffice. I am extremely happy with the finished outcome. I had teeth extractions and full mouth dental implants. No sinus lift/no bone graft using Pterygoid implants were required. So with the full mouth restoration, the smile makeover is priceless to me. I can smile again!
It was well worth the long journey and the procedures. It has and is giving me joy to again smile.
My contact details if anyone would like to email me for revalidation of my experience is gulforient01@gmail.com.
———————
UPDATE FROM THE PATIENT
I constantly think of you all and reflect on how blessed I am that you all have been a part of my life albeit short as it is. You are beautiful and gifted people. I would definitely recommend Dr. Motiwala's procedure to anyone interested.
---
S. Tsykina
Accountant – Auckland, New Zealand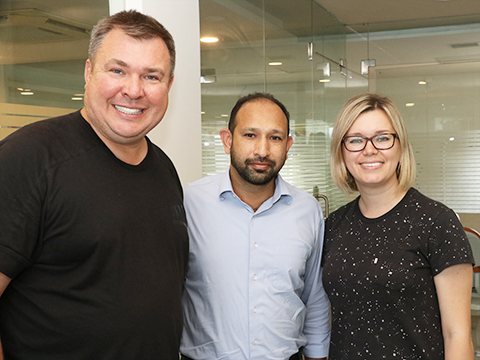 I was searching for a suitable dental treatment for myself for a number of years. I needed bone grafting, several trips overseas and quite a large amount of money. Some dentists advised that if I don't have any issues with current bridges just to leave it. I was not satisfied with my smile because of my teeth colour and shape. I had no confidence when talking to people.
I have a relative who recommended Dr. Motiwala's Dental Clinic as she had Pterygoid implants done here a few years ago and was totally happy with her dental work so I decided to come too.
Dr. Motiwala is one of a kind specialist, very professional, hard-working, strives for the best results for his customers. Choosing him was the best decision I made. The job I undertook was a full-mouth restoration with Pretygoid implants and smile makeover. No bone grafting was needed in my case and the whole job was done in one visit over 2 weeks.
The team was very helpful. Tasneem kindly provided all the information I needed before departing my country and during my stay in Hyderabad. The communication was great during the whole treatment. The staff is very kind and polite, thank you very much for your hospitality team.
I wish Dr. Irfan Motiwala all the best.
---
Garth Horsfield
Artist – Melbourne, Australia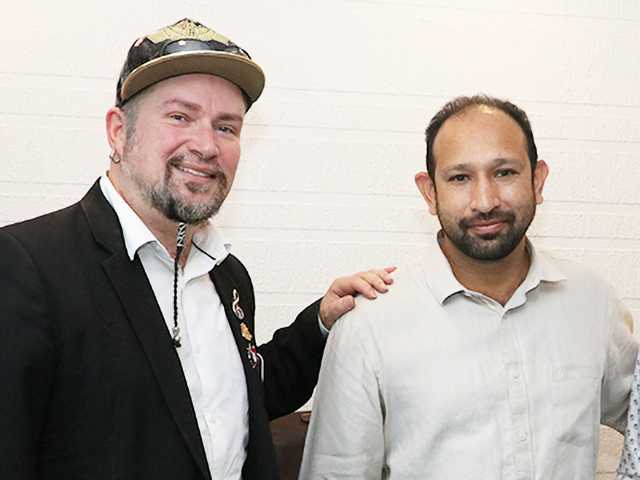 After hearing about Dr. Motiwala from a friend who had already done extensive research and already had a full mouth reconstruction with him herself, I decided to visit Hyderabad and see Dr. Motiwala for my own problems… I was a smoker (now quitting) and had two front teeth that were in terrible shape and some bad staining and also a large cavity in my rear molar. The only options in Australia were to remove the teeth and pay for an ungainly plate, or to risk using older forms of implants, which as well as costing the earth, had no long term prospect of working. I'm so happy now with 17 beautiful zirconia crowns, an expert root canal and crown on my rear tooth and two basal implants at the front. Dr. Motiwala is extremely professional and apart from the needles I didn't feel a thing. He also spent substantial time readjusting my bite, so my whole mouth feels brand new and I can use all my teeth. All for the cost of one single implant at home. Plus I got to see some amazing sights in Hyderabad. This can definitely change your life, and now I'm relearning how to smile, after so long covering my mouth.
---
Hector Quinones
Sydney, Australia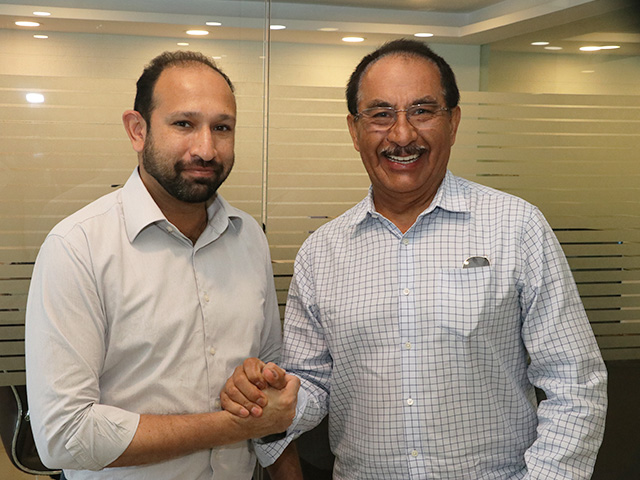 What a great decision!
During my adolescent years, never took care of my teeth, specially my molars, bit by bit I lost all of them, so I was wearing dentures all my adult life, till even my dentures did not have a place to hold on and on top of that it was very hard to eat and enjoy my food.
It was getting critical to find a solution to my problem, I visited my local dentist but he did not have the answer, the technology is there but is not to the reach of common people. It was then that a family of a good friend had just arrived from Dr. Motiwala Dental Clinic In Hyderabad (India) and adviced me to contact them.
After contacting the Clinic and requesting a quote, I made the decision and had a full mouth restoration with no sinus lift and no bone grafting and with a smile makeover that make me look like a movie star.
On top of that the treatment was painless and Dr. Motiwala and team are the most professional that I have experienced.
I congratulate myself for taking this decision and of course Dr. Motiwala.
Thank you for the wonderful experience and service.
---
Friedrich L.
Eng.Telecommunications – Upper Austria, Austria
It doesn't matter in which national or international dental forum you do your research, if you look for the most affordable and highest quality treatment in the world, sooner or later you will definitely stumble over Dr. Motiwala's Dental clinic in Hyderabad and just like in my own review here, you'll find a lot of praise.
His former Google+ homepage totally convinced me that this is the guy I wanna contact for possible treatment. And after having talk with Tasneem, and the Doc himself – he even called me back, from HYD/India and patiently answered ALL my questions, something not even the local Docs in Europe, especially in Hungary were not able to, as you know, time is money, and this saying is more valid for a Dentist than for anyone else in the world, okay, maybe a lawyer too). But not so for Dr. Motiwala. Everyone should give him a try, and I am pretty sure he'll convince you too, and will win your trust in no time at all. And boy, how right all the people were, who praised him for all the good experience. Cuz now I'm one of them too.
So here's how my treatment went: Based on my emailed digital x-ray, it only took a few days and I received a pretty precise cost estimate for having the best treatment possible, then started collecting the needed amount of money, asked for possible treatment dates, chose the best fitting one, booked the hotel (with the kindly offered assistance of Tasneem) and of course my final flight ticket. From the very first second on walking out of custom's gate at Hyderabad airport, I felt treated like a VIP. A private chauffeur was awaiting me for my (late) arrival and he safely took me to my hotel and from there on everything so continued like a charm, means everything happened at a grade of precision, I wouldn't have believed that this would really be possible!
After getting the usual work done on day one (X-rays, blood samples, a precise inspection of the mouth to have the best possible live checkup done, etc) the Doc himself started his Magic. On day two, after I chose to go for 4 extra implants for my upper front teeth, which were too short to safely carry crowns (could have gone with a cheaper option of having root canal/post and core instead) he started to extract what didn't belong in my mouth anymore, like broken teeth, broken and "forgotten" roots (all left by the sloppy "home" dentist who completely ruined half of my molars, 21year ago). Dr. Motiwala's motions were more like the movement of a ballerina, all his moves done with such ease, this Doc literally breathed "LIFELONG PRO" all over the place, what felt like so much more than just lifelong experience. There was no pain involved at all! What a magician! Same for the drillings he had to do, for setting the implants: No pain, no fear was involved at all, cuz I felt so taken care of, simply nothing was worrying me at all! I felt so safe in the Docs hands, I still cannot believe: I cannot repeat myself often enough. And never, not at one single time, did the Doc give me the impression of hurrying! You can choose your favored color, I went for most natural white possible which was what I had 20 years ago.
Soon I saw my new teeth for the very first time in my life, and they simply looked amazing. So it totally made sense when someone called Dr. Motiwala the Michelangelo of Smile Design! I could now leave with a finished full-mouth restoration with translucent Zirconia crowns and everyone who saw me was stunned by the quality of work the Doc has been able to deliver once more.
I can full-heartedly recommend Dr. Motiwala to everyone who is looking for the best quality treatment available, for a comparatively low amount of money, some even would call it "for a budget".
Great person as a human, great person as a lifelong Pro, a great guy with a big loving heart for the desperate needs of his patients, not giving up on you until you are fully satisfied with his works: this is Dr. Ali Irfan Motiwala! Will be grateful forever.
---
M. Wong
Businesswoman – CA, USA
WORLD CLASS is the work that sums up my impression of Dr. Motiwala.
I have started my journey back in 2013. Yes, it took me that long to decide. That means, my research was extensive. I first stumbled upon Dr. Motiwala's on the internet and was immediately impressed with the reviews. Most of the techniques I've seen from the US, Costa Rica and Thailand, were different from his. I was convinced from day 1 that Dr. Motiwala is the right person in my opinion, but the timing was not on my side, as work and family life was in the way.
However, in August, something inside me was telling me, it cannot wait any longer. I should care for my teeth, I should not neglect them any longer since I have neglected them all my life. I finally decided to come to beautiful India and reached out to Tasneem, his International Coordinator, who was very helpful in every step of the way. She has become a familiar figure in my life for 5 years. She had been very patient and concerned about me, like a friend.
As soon as I arrived and upon meeting Dr Motiwala and Tasneem, it is everything that I expected. They have calm demeanors and empathy was the first characteristic you'll see through them.
My first consultation was very enlightening. Apart from what you have already read on their website, Dr. Motiwala educated me about the procedures, what the whole process would entail. From the CT scan, which was done with state of the art machines that they have in the clinic, it was obvious that I had a lot of bone loss. The technique that I required was the Basal and Pterygoid implants. It was clearly explained to me, in very simple words that I, as an ordinary non-technical person, could understand. Moreover, to my great delight, he informed me that I would not be needing a bone graft, unlike what I've been advised to me in the US. The Pterygoid implant technique gave me the assurance that technically, my smile is engineered- to last a lifetime.
I needed full-mouth restoration, and because of being on the know, because I was educated, I was not intimidated or scared. The fact that I would get the implant is in one piece and attached to 2 points. In the US, I always see implants that have 2 or 3 segments, that makes the percentage of implant failure on the higher side. This knowledge gave me tremendous confidence that I will not have any problems in the future. On that first consultation day, you can see that Dr. Motiwala has done this for years and this expertise was already innate in him. He has developed this technique years ago, and I believe he has mastered this craft. The US needs to catch up to his, at least, already 15 years of advanced technology.
Long story short, the surgery was a success. Other than for some minor discomfort, it is unbelievable that a full-mouth restoration was done in 3 to 4 hours, maybe less. Imagine, 12 implants on the upper jaw. For the lower jaw, where I had so much bone loss, a couple of extractions, 8 implants were placed. It was quick and painless. At this point, my anticipation has increased, I was so excited to have my crowns in. Did I mention that this is to be done the following day, AND NOT 4 months later, just as I was told in the US? It is worth mentioning that the crowns are done by a technician with impeccable standards. Dr. Motiwala's guidance will not get you lost, his attention to detail is down to the last millimetre. Making sure it is as natural looking as possible. He will adjust until it is perfect. His personal concern is what's special that is rarely seen with US dentists. My experience is one of the best human kindness, I've ever received from anyone. From Dr. Motiwala, Tasneem, the dental assistants, the staff-every single one of them.
I highly recommend Dr. Motiwala to anyone who is going through a tough decision. Take it from me, it took me 5 years, but it is the best decision I have made in my life. I now have a beautiful smile that I will carry with me forever. Thank you to the advanced method by Dr. Motiwala, my whole life has changed.
---
Vicki Watson
Lanzarote, Spain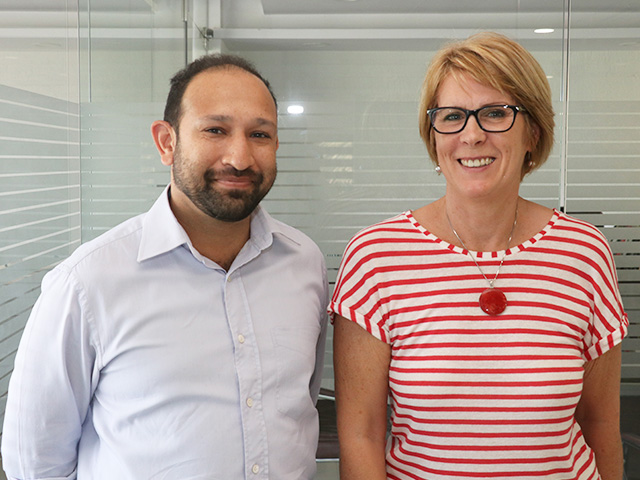 For too many years, I had postponed having my much needed dental work carried out.
I always found something else to spend my hard earned money on my own business, bills, home improvements, etc.
When my teeth became very sensitive and after losing a tooth which I was very conscious of, I decided that it was time (long overdue!) to have the work done. The next problem to face me was where, to have it carried out. When I started exploring the possibilities; I was shocked at how expensive it would be and also how long it would take. An implant would cost me 1500 Euro and take at least 3-6 months to be done. A crown would cost me 500 Euro. The prices and time scale were prohibitive. So I started to search the internet for a dentist abroad. I had visited India as a tourist 17 years previously, so that's where I researched because I could enjoy an interesting holiday at the same time.
Dr. Motiwala was the second dentist I found in India. I was impressed by the clinic's comprehensive website which had a video of its modem state of the art clinic and it was pristine!!
The website's information addressed many issues and answered my questions. I was far more confident with Dr. Motiwala and his clinic than the previous one I had found in Delhi. The patient testimonials and YouTube videos plus comments on Facebook only reinforced my initial positive impression. For me the qualifications, experience, competency were of the utmost importance. Plus as an Ex-nurse and midwife hygiene was also a major concern priority for me.
With Dr. Motiwala , I felt I was getting all of the above and I was very confident in my choice.
After deciding to go ahead the rest was extremely easy. I contacted Tasneem the International co-ordinator who seamlessly guided me through the booking process, sent me valuable information regarding visas, hotels, etc. I arrived at the Radisson Blu hotel and met Dr. Motiwala and his team the next day. All of my amazing first class dental work was successfully completed by 1st Feb '17.
It would have been a little earlier but Dr. Motiwala was not happy with the impressions at a couple of my teeth & insisted those be done again – that is normal for this perfectionist.
My friends at home are amazed, I am not amazed just extremely, grateful and cannot thank Dr. Motiwala and his team enough.
---
Lucia Gaier
LV, USA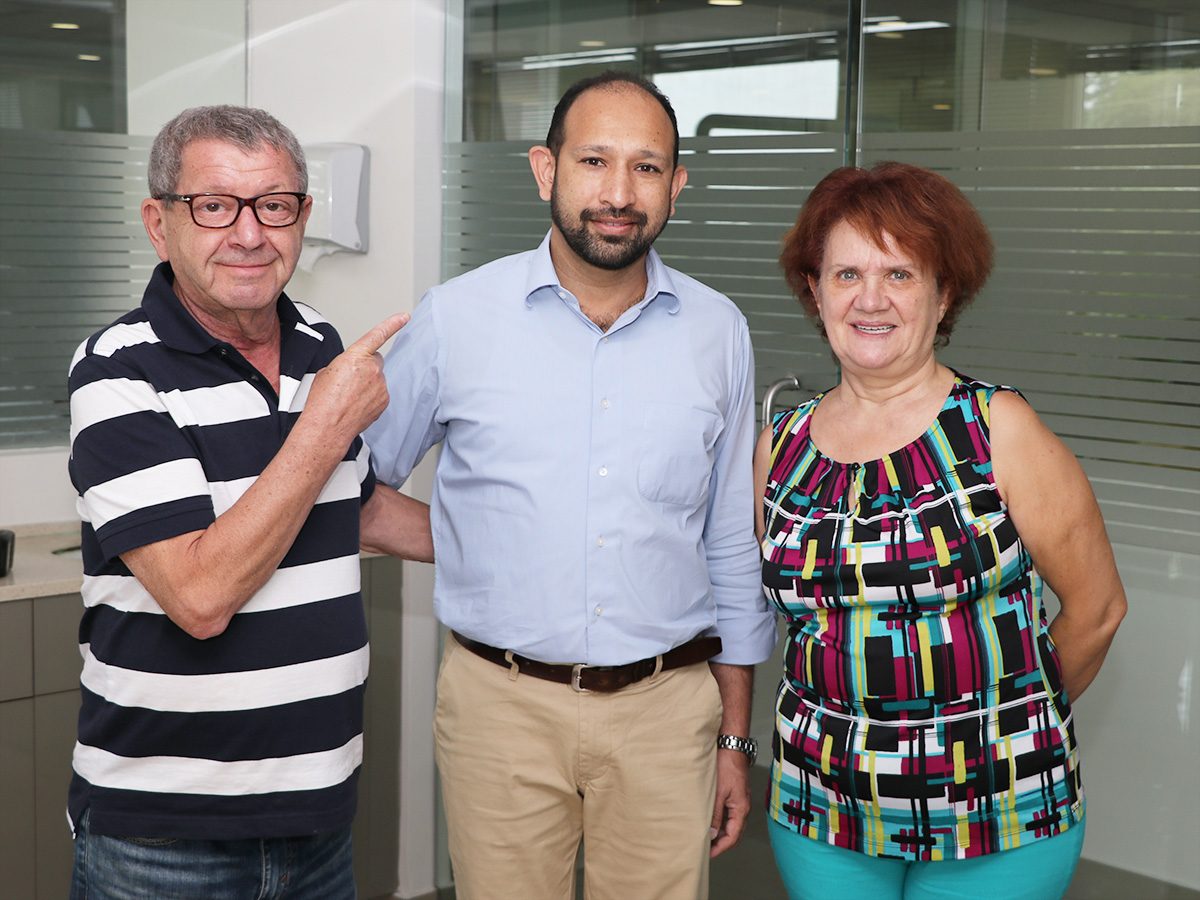 I have been to many dentists and never been happy with their opinions. I have found Dr. Motiwala on the internet. I have come to India not knowing what to expect but after the treatment, I am so happy and I recommend with no reservation Dr. Motiwala. I have had full mouth restoration without any sinus lift or bone graft using single piece basal implants. The doctor is a genius. Thank you to all the staff and especially to Ms.Tasneem.